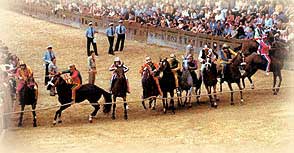 On this web page, authorized by the Consorzio per la Tutela del Palio di Siena, there are many statistics and interesting news items regarding the Palio, which are updated periodically.
Among those who have collaborated, we wish to thank: Alessandro Ferrini, Giacomo Calossi, Fabrizio Gabrielli and Graziella Battigalli, the artist who has permitted us to reproduce one of her paintings.
The following chapters are written in Italian, however, the statistics are easy enough to understand even for those who do not know Italian.