SUOR LUISA



I went back this morning to Siena, and spent the day there with Suor Luisa. Yesterday as you know was the feast of St. Joseph, and a greazt wave of homesickness came over me for I knew well all that was taking place in the Contrada dell'Onda; so I tried to make the others understand, - though how could they, who had never known Siena? Yet while our foolish little keeping of the day gave but a poor idea of the real way to celebrate the Festa di S. Giuseppe, I was happy in it, and I hung out my silken banners with other pretty trophies of the Palio, those little banners Suor Luisa made of scraps "left over" from the real great banners of the contrade that the Sisters and the Deaf-Mutes make in the Casa di Lavoro. Exact reproductions in miniature are these of mine, exquisite examples of the wonderful Sienese needlework, with the silk cut and sewed in the actual patterns, and its pretty contrada symbol painged on each. And while we admired them I talked again about Sour Luisa, and laughed as I talked, because every word of hers that I recalled brought the memory of laughter with it. There was the Christmas Day, for instance, when each one of the "Children" - as she and Suor Cecilia called that pathetic little company of Deaf-Mutes, - had a separate present, and the Sisters felt that such luxury as this merited some special celebration; so the presents were tied up in many wrappings and hidden in all the nooks and corners of the house, and after dinner the hunt began! Upstairs and down and downstairs and up again went the children, each intent on finding the package marked with her name, and of course up and down and down and up the Sisters followed them, for who knew to what recklessness this eager search might lead, - to what leaning out of windows or climbing out on roofs! And when the packages had all been found and opened and rejoiced over, everyone was so exhausted that the entire household went to bed at once, and by five o'clock they were all fast asleeep. Such a happy Christmas, never to be forgotten!

Again, there was a wonderful spring evening when they ate their supper inthe field below the garden, and had a tombola for sweets that had been sent them, - a well-managed tombola, in which everybody won something; and then they climbed up to the Porta Romana to sit under the city wall. There is a path that leads up to the gate, but this they were "so clever" as to miss, and then, what fun! How they scrambled up on hands and feet! How they slipped back and pulled themselves up again, and sat down every now and then to laugh! How dear old Caterina, who acts as messenger for the Sisters, slipped back so far that she almost fell to the bottom of the slope again and was saved only by Suor Ugolina's catching her by the feet, - and how the children laughed and laughed, and what a gay time they all had, and what a delight it was to take them anywhere!

Sometimes too, kind chance provided entertainment for them What a fortunate thing it was that Suor Luisa saw those men escaping from the insane asylum. "They were just climbing the wall", she said, "for they had come over the fields and crossed through our garden, and I ran at once and told the children to leave their work and come to the windows; they have so few pleasures, and this seemed to me a unique entertainment. How they did enjoy it!"

As I repeated the stories, Suor Luisa was there before me. I could see her, radiant and smiling, arriving at Uopini that Sudnay for the visit tot he Villa so lonhg planned between her and the Signora Caterina, and so skillfully kept a secret until the last moment, a surprise for the children. That day, I rmember, they rode for the first time in the tram. How cleverly Suor Luisa led up to this, - bringing them into the Piazza dell'Indipendenza and stopping before the tram as if to look at it more closely, then turning suddenly to the children and telling them to climb in. But another day, later, brought something even more stupendous, a tirp to Castellina in Chianti by train! There were four who had never been inside a train, and the others remembered vaguely the coming to Siena as tiny children, but very vaguely. How oftern they used to beg to be taken outside the gates to see the train pass, and ask: "How does it feel, how does it seem to ride in one?" "And I tell them", said Suor Cecilia, when the great project was in preparation and still a secret, "that it is something impossible to decribe, for of course I wish them to have no idea of it until they go".

What children have ever been more beloved by parents! Many of them grown women, they were still "the children" to the Sisters; few of them attractive in apprearance, some of them not very intelligent, yet we were assured that to live with them was a pleasure and a privilege, they were so good, so affectionate, so superior to all other children in the world. That Suor Luisa should give her life up to them sacrificing herself because of all that they had not and because of what she herslef was, - that she should be content and happy to live among them, recognising at the same time all their deficiencies, this we could have understood, self-sacrifice is easy to understand, if not to practise; but that to her they were out of her love for them lovely, even as a fair child is to the mother fairer and lovelier than all other children, - there was the wonder of it.

Of all the hcildren's love for her, what shall I say? How they crowded about her in house and garden that happy afternoon at Uopini, that they might share their happiness with her, that she might share her joy with them! How she sent them from her, now here, - now there, to see this or that, - then called them round her again to tell them of something new, speaking all the while with lips and eyes and hands, and laughing, - oh, that pretty laughter!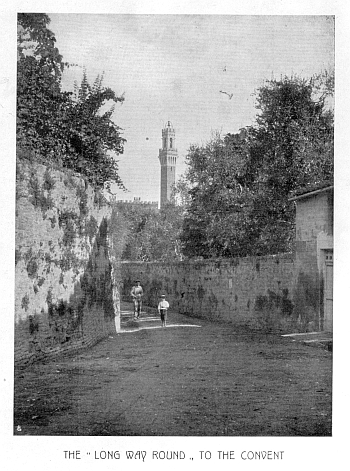 And I dwelt on the brightness of the memory, trying to forget that she lay so ill now in Siena, thinking fo her only as full of life, as strong to help. To be sure there was her last letter, a complaint in the spirit of Suor Luisa: If one had not faith, she wrote, one would lose courage; expenses were greater because more children had joined the family, and it was so had to know and see the need of work and to be unequal to it. Yet I would not let myself believe that it was possible for her to die, so young, so needed. She would grow strong again, and in June I should laugh with her, and see the faces of the children brighten strangely when she spoke.

Then this morning the news came, and i knew I had been waiting for it even while I had tried to deceive myself. In June then I shall not find her there. How will it seem? Will that house where there was silence but never gloom, be gloomy? And the children. Will the bright faces be saddened, the dull ones duller? But for this there wil be time enough when June comes, - to me until then she is still in all the joyousness of her young life. That is why I went back this morning to Siena.

I did not go the "long way round" to the convent, - the Via Fontanella, -lingering by the Onda church to look at the mangia tower through the archway, or stopping at the old fonte to enjoy the view of the city; but I passed by the Piazza di Sant'Agostino and out the Via dei Tufi, keeping in the strip of shade under the high walls, to the convent garden on its terrace, the garden with the pergola, where we have walked in stolen moments of long afternoons.

I ring the bell at the entrance, near the saddest of the city gates. Suor Cecilia comes to open the door. She drops her voice, - as if there were need of whispering here, -while she tells me delightedly of a new surprise preparing for the children. We pas upstairs together rejoicing in the secret, pause to rest a moment on the first landing, before the statue of the Guardian Angel, then climb the second and the third long flights, and we are in the great work-room with all its windows wide open; below,- the domes of the Misericordia Cemetery in the foreground,- that lovely bit of Tuscany stretches away to Monte Amiata, all blue in the sunlight. I draw a deep breath, I am so glad to be up here again. What beauty outside! And with, what quiet, - and yet what life, what joyousness, what radiance, for here is Suor Luisa.

She knows at a glance that I have heard of the "surprise", her eyes dance, but she shakes her had in warning as she welcomes me. There is so much to tell and to hear; I take out my sewing, and slipping into one of the low chairs beside her platform watch her as she works or moves about. Remembering that her own town is Lucca, I always think of Suor Luisa's service as given in the spirit of Santa Zita. She pauses in her work and in her merry talk with me to search for a pattern or a design or to give some directions to the children, who sit sewing busily, with little expression until she rises and moves towards them then they are all alert, alive, as a look of her sweeps over their faces. Is it fancy that even the plainest reflet something of her loveliness, that certain of the children have come to smile that wonderful smile of hers, full of love and sweetness,gentle and yet quick as a flash of sunshine, or as one of her own motions, for with all her gentleness everything about her is quick and vivd. In that smile, in mouth and eyes, there is somthing tenderly mocking, as if she were always laughing at those little trails and troubles of the world that so truly count for nothing, as if she had searched your heart with her glance, and were laughing at the things you would like to laugh at if you could. That is why you come out from her feeling joyous, as I have come today.

The children bid me farewell with silent gestures, with few words, but with quick exchange of looks. They ask for news of the Signora Caterina. -Is she stronger? Will I take her many loving messages from them? Suor Luisa accompanies me to the door. "Come soon again", she says, "soon, soon, to laugh with us."

On the first landing the Guardian Angel still spreads protecting wings over the little charge committed to him; in the sun-lit room above, its wondows-flung wide to the beauty of Tuscany, I know that Suor Luisa is always with the children, and I will go back to her often in Siena.