Volterra is an Etruscan town of Tuscany at 531 meters above sea level with about 11,800 inhabitants.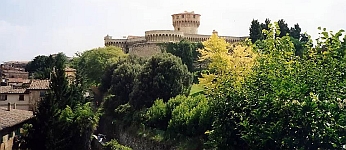 It is also called the "windy town", thanks to its hilltop location halfway between the valleys of central Tuscany. A town with Etruscan origins, it became an important Episcopal seat around the 11th century. Nowadays, the town is an important city of art, also well known for the handicrafts of alabaster and onyx.

Sights to see:


Porta all'arco: Important remains of Etruscan engineering dating back to the 4th century B.C., it preserves the imposing jambs made with big blocks of stone.


Piazza dei Priori: In the heart of the town, it represents one of the most harmonious and scenic medieval piazzas of Tuscany.


Palazzo dei Priori: Built in the 13th century, it is one of the most ancient City Halls or "Palazzo Comunale" of Tuscany. It is enriched by elegant two-light windows, numerous coats of arms and maiolicas belonging to Florentine families. Palazzo dei Priori is surmounted by a nice tower with turrets.


Duomo: A Romanesque building (12th century) characterised by a nice portal, big rose window and richly decorated. A 3 nave interior, several works of art: "Deposizione" a notable ligneous sculpture, a marmoreous ciborium by Mino da Fiesole dating back to 1471 and "Annunciazione by Bartolomeo della Porta. Inside a chapel "NativitÓ" and "Adorazione", 2 painted terracottas attributed to Andrea della Robbia. On the left is the fresco "Cavalcata dei Magi" by Benozzo Gozzoli (1479). It also preserves other works by Taddeo di Bartolo, Antonio Vanni, Neri di Bicci, Domenico Ghirlandaio, Luca Signorelli.


Battistero: Octagonal building dating back to 1283, with a very nice Romanesque portal. Inside are the baptismal font by Sansovino and the decorated altar by Mino di Pietro.


Museo diocesano di arte sacra: also called "Opera del Duomo" it preserves important works of art belonging to the Duomo and other churches of Volterra. Among the works are the "Busto di San Lino" by Andrea della Robbia, " Busto di Sant'Ottaviano" in carved Silver by Pollaiolo, the reliquary of San Vittore, a bronze gilt "Crucifix" by Giambologna and "Madonna with Saints" by Rosso Fiorentino.


"Quadrivio dei Buonparenti": Cross road between Via Roma and Via Ricciarelli, it is one of the most evocative corners of the medieval center of Volterra. Here stands the Tower-house of Buonparenti that emerges among the ancient palaces and towers.


Palazzo Solaini: Elegant building by Antonio da Sangallo the elder. It houses the "Pinacoteca" (picture gallery) and the Civic Museum. Several works of art by Taddeo di Bartolo, Domenico Ghirlandaio, Luca Signorelli, Rosso Fiorentino. Worthy of note is the "Deposizione dalla Croce" by Rosso Fiorentino (1521). The palazzo preserves wooden and marble sculptures, as well as, a rich collection of coins made in Volterra during the 12th and 14th centuries.


Palazzo Viti: preserves a rich collection of alabasters, ancient porcelains and sacred vestments.


The Church of San Michele Archangel: It preserves works of art by Pomarancio, Carlo Maratta and a terracotta by Andrea della Robbia.


The Roman Theater: Discovered in 1950, it is a very important ruin of the Roman Era.


The Guarnacci Museum: It is considered one of the most important Etruscan museums of Italy. It preserves more than 600 cinerary urns of extraordinary beauty. On display are several sarcophagus, sculptures, vases, Etruscan bucchero objects, coins, jewelry, bronzes, idols and small statues. Among the cinerary urns worthy of note is the " Urna degli Sposi" (1st century B.C.) Among the statues do not miss seeing the "Ombra della Sera"(2nd C BC ), a bronze statue which became the symbol of the Etrucan civilization.


The Fortress: A stately defensive construction which nowadays hosts a penitentiary.


Balze: Striking chasms created by landslides.
---

Look at the map