Travelling around the countryside in the province of Siena, between Montalcino and the valley of the Orcia river, the Benedictine Abbey of Sant'Antimo presents itself like a revelation, surrounded by high cypress trees and centuries-old olive trees, in a countryside that is quite uncontaminated. Traces that time has jealously preserved for us, as if it wanted to preserve the memory of other times and different life rhythms.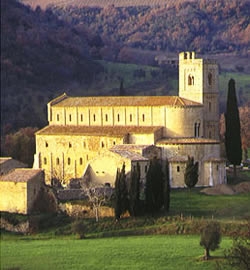 Then, we pass without haste along the unsealed driveway that brings us to the Abbey and we remember the words of a famous medieval chronicler, Rodolfo il Glabro, who noted that Europe, on the verge of the year 1000, was fitting herself out with a "white cloak of churches. Making a stop in Sant'Antimo's monastery, the pilgrams of yesterday, on their journey along the Via Francigena could find shelter along with assistance for his material and spiritual needs.

The Abbey was founded in the era of Charlemagne, and is a prestigious example of the meeting between French and Lombard Romanesque architecture. It was then enlarged in the 12th century. Inside the church a quiet silence circulates among walls and almost transparent alabaster columns. The darkness is barely lit by shafts of light that enter the narrow windows. The extraordinary capitals sculpted in bas relief unfold like a fan with a world of symbols whose meanings seem nearly lost at the beginning of time. Almost at the centre of the church there is a small crypt.

But Sant'Antimo deserves a visit for yet another reason - this is one of the few Abbeys in Italy (if not the only one in which it is still possible the live the emotion of Gregorian Chanting which is sung every day by the Abbey's monks.
The region has experienced occasional phreatic volcanic eruptions, caused by explosive outbursts of steam trapped below the surface. It possesses about a dozen explosion craters 30-250 meters in diameter. The largest is the Lago Vecchienna crater, now filled by a lake, which last erupted around 1282.


---

Look at the map