Brief Guides of:

Siena
Chianti area
Colle val d'Elsa
Larderello
Massa Marittima
Montalcino
Monte Oliveto
Montepulciano
Monteriggioni
Pienza
San Galgano
San Gimignano
Sant'Antimo
Volterra


Graziella Battigalli











San Gimignano is situated in Tuscany, halfway between Siena and Florence. Today it is a town that still preserves its ancient medieval layout. It experienced great importance and economic growth during the Middle Ages, thanks to the Via Francigena, the ancient way walked by pilgrims who went to Rome from northern Europe. It is called the Town of the Towers because in the past it had up to 72 Tower-houses and 14 still survive. San Gimignano contains many remains and several works of 14th and 15th century Italian art, especially from the Sienese and Florentine schools. Piazza del Duomo is the heart of the town and it hosts the Palazzo del Podestą, the Palazzo Comunale (Town Hall) and the Duomo. Throughout the centuries, Piazza del Duomo represented the focal point of San Gimignano where all celebrations took place and where the municipal power was seated. Two towers rise up in the square: Torre Grossa and Torre Rognosa. Nowadays, it continues to preserve its ancient role and is still one of the focal points of the town.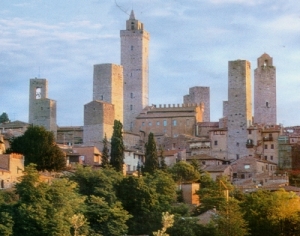 Duomo, Basilica di Santa Maria Assunta: Three nave aisle church dating back to the 12th century. The rich interior with frescoed walls by famous painters contribute to make this church a unique testimony of its ancient past. Works of art by Bartolo di Fredi, Taddeo di Bartolo, Ghirlandaio and wooden sculptures by Jacopo della Quercia.

Town Hall: It overlooks Piazza del Duomo with its 52 mt high tower, called "Torre Grossa", the highest tower in the town, from which it is possible to have a wonderful view. It hosts the civic museum with many works of art. Worthy of note are the "Annunciazione" by Filippo Lippi, (1482), the "Crucifix" by Marcovaldo (1260), the tabernacle of Santa Fina, the patron saint of San Gimignano and "Madonna in Gloria", painted by Pinturicchio in 1512. Of particular interest is the "Sala di Dante" where visitors can admire the "Maestą" by Lippo Memmi, painted in 1317 along with several other frescoes.


Palazzo del Podestą: It dates back to 1239, is characterised by a stone and brick facade and by a high tower called "La Rognosa". Inside, on the central wall, is the "Madonna con Bambino" (Our Lady with child), a lovely fresco by Sodoma.

Museum of Sacred Art: It lies on the left side of the Duomo of San Gimignano and houses many paintings, silverware and holy vestments along with some works of art.

Archaeologic Museum: Many Etruscan, Roman and medieval finds are on display inside. Several unusually shaped cinerary urns.

Spezieria di Santa Fina: Ancient books of prescriptions, as well as, ancient ceramics and glass. It displays several rare pharmacy vases dating back to the 15th century in which ancient medicinal substances utilised to make drugs are still preserved.

Museum of Torture: Rich collection of more than 100 torture machines (instruments of torture) which date from the 12th to the 16th century.

Sant' Agostino: Gothic Romanesque church built in 1280 characterised by a very nice marble altar by Benedetto da Maiano. It is one of the most beautiful Renaissance works of art. Several frescoes by Pollaiolo and Ghirlandaio are on the walls. (Madonna with child). The principal work is represented by the frescoes of the choir painted by Benozzo Bozzoli between 1461 and 1464 showing the life of St. Agostino.

Piazza della Cisterna: Very beautiful triangullaly shaped square with a nice travertine well in the center of the red brick pavement.


Typical products:

Vernaccia di San Gimignano

Excellent white wine, the Vernaccia has ancient origins and was the first Italian wine to receive the DOC prize in 1966, the highest distinction that can be granted to an Italian wine. It is produced utilising grapes that are grown exclusively in the San Gimignano area. It is served as an aperitif, as well as, with white meats or fish dishes.

Zafferano: It has been cultivated in San Gimignano since the Middle-Ages and was always of great importance for the economy of the area. It is utilised for rice dishes.

Ceramics: Along the streets of San Gimignano many shops offer their hand-made ceramics and hand painted works.

Salami: You can also find in San Gimignano a wide variety of traditional Tuscan salami. Don't miss tasting the wild boar one.


31 January - Feast of the City Patron Saint: San Gimignano. Traditional fair.

12 March - Festival of Santa Fina Patron Saint of San Gimignano. Traditional fair.

July - International Festival: the municipality organises several spectacles, lyric performances, concerts and ballets.
---

Look at the map