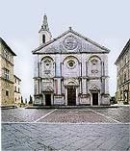 Brief Guides of:

Siena
Chianti area
Colle val d'Elsa
Larderello
Massa Marittima
Montalcino
Monte Oliveto
Montepulciano
Monteriggioni
Pienza
San Galgano
San Gimignano
Sant'Antimo
Volterra


Graziella Battigalli









Pienza is a small town near Siena in a panoramic position overlooking the Orcia river valley; it is a rare example of Renaissance town building. It was built by the order of Pope Enea Silvio Piccolomini in 1458. Thanks to its position, Pienza was of great importance during the Middle Ages.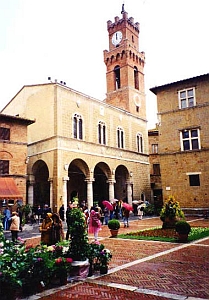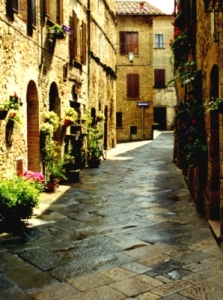 Around Pienza's central square are the most important buildings: the Cathedral, "Palazzo Piccolomini", "Palazzo Borgia" and "Palazzo dei Priori".
The Duomo of Pienza is a very nice building and is embellished with five paintings by the most famous Sienese painters:
Giovanni di Paolo: Madonna with child and Saints.
Matteo di Giovanni: Madonna on the throne with child and Saints.
Lorenzo di Pietro (called Vecchietta): Assumption.
Sano di Pietro: Madonna with child and Saints.
Matteo di Giovanni: Madonna on the throne with child and Saints.
Worthy of note is the beautiful altar attributed to the architect and sculptor "Rossellino", as well as, the nice baptismal font.


Palazzo Piccolomini: Similar to Palazzo Rucellai in Florence, it was once the Pope's residence. Nowadays, it hosts and preserves many objects of the Piccolomini Family. The portico over the hanging garden and the internal court with arches is very nice. Worthy of note are the "Sala delle Armi" (Room of Arms), the library, the studio and the bedroom of PIO II. In the piazza there is a beautiful travertine well by the Florentine school.


Palazzo Borgia: The Palace is the seat of the "Museo Diocesano", one of the most important museums in the province of Siena for the artistic treasures and numerous pieces on display. In its eleven rooms, it preserves many works of the Sienese school of painting by P.Lorenzetti, Bartolo di Fredi, Vecchietta and Luca Signorelli. It also exhibits illuminated manuscripts by Sano di Pietro, Flemish tapestries, silverware and finally the cape of PIO II, an extraordinary example of quality and richness of particulars.


Palazzo Comunale: (Town Hall)
Built in 1462 and characterised by an ample portico with Ionic travertine columns, today it is the seat of the local government.


The Church of San Francesco:
It is one of the most ancient Franciscan buildings in Italy, dating back to the 13th century.
On the walls is the story of St. Francis of Assisi. Important works of art by Luca Signorelli and other Sienese painters.


In the surrounding area:

Pieve di Corsignano:
Outside of the historical center of Pienza is the Romanesque parish church characterised by a cylindric tower and a fortress decorated with mythological and fantastic themes.

The Castle of Spedaletto:
Just 9 km. from Pienza, this medieval fortress is an important example of a many towered and fortified castle. Inside, there is a small church with a gothic portal and a nice rose window.


Pienza events and festivals:


May = Passing of "Mille Miglia" historical car race.

July = Teatro Povero di Monticchiello; theatre spectacle, ideated, written and produced by the local people in the village of Monticchiello.

September = Festa del Cacio (Pecorin sheep-cheese feast); Gastronomic festival. It is possible to taste the famous "Pecorino" cheese of Pienza and other local products.



---


Look at the map