Monteriggioni is a suggestive and glorious suburban town on the left bank of the Staggia torrent.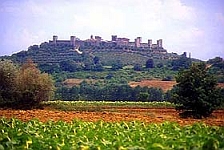 According to the wishes of the Sienese people, it was erected in the l2th century as a castle and served as the city's front emplacement against Florence. In 1213-19, it was encircled by a mighty wall, whose circumference was 570 metres and which had 14 huge towers that at one time stood much higher; they made an impression on Dante who refers to the towers in Canto 31 of inferno: « On the waII so round / Monteriggioni with towers is crowned ».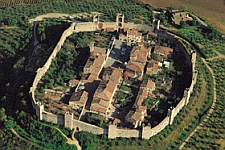 The town still bears its medieval aspect and in the parish church we can clearly view the interesting example of the transition from the Romanesque to the Gothic style.



---

Look at the map