Brief Guides of:

Siena
Chianti area
Colle val d'Elsa
Larderello
Massa Marittima
Montalcino
Monte Oliveto
Montepulciano
Monteriggioni
Pienza
San Galgano
San Gimignano
Sant'Antimo
Volterra


Graziella Battigalli



Situated on a solitary, wooded hill dominating the Crete area, this was the first abbey of the Benedictine Order of Monte Oliveto and certainly the largest and most beautiful among those that were erected in other localities and even in Tuscany.

From out of the midst of the dense olive groves and cypresses, the abbey emerges suddenly with the slender cusp of its bell-tower and with the mighty and varied series of its projection that enliven the perimeter.

This complex, which is famous for its historical events and collection of masterpieces of art, comprises the monastery, cloisters, church and the entire building as a whole, making it a sort of self-sufficient nucleus.

It was founded in 1313 by Bernardo Tolomei (1272-1348), a member of Siena's most important family, who decided to abandon the world and withdrew to this solitary and unwelcome retreat, known as the Accona desert, which was his family's property. In 1319, the Bishop of Arezzo gave his approval to the institution of the Benedictine Order. In 1320, work started on the monastery's construction. Pope Clement VI confirmed the Monte Oliveto congregation in 1344. The abbey is still the offical residence of the general abbott of the Monte Oliveto Benedictine congregation.

This place, which is the favourite haunt of tourists, offers both a suggestive and pretty landscape, as well as, an interesting art collection.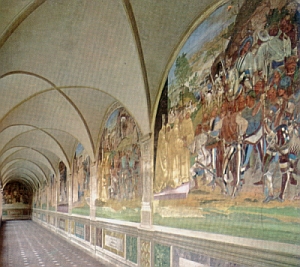 The church, which was erected in the 15th century and whose interior was re-built after 1772 in the Gothic style, possesses some marvellous inlaid choir stalls by Giovanni da Verona (1503-1505) and a lectern by Raffaello da Brescia (1518)

Also of interest are the frescoes by Luca Sodoma, done at the beginning of the l6th century and depicting the life of San Benedetto da Norcia in 35 panels. This seires of frescoes runs along the four walls of the huge cloister, with its suggestive atmosphere in a double row of Loggias, airy and tall and with rows of characteristic pillars.

We wish to point out the refectory, with its l7th century frescoes of three naves according to the designs of Friar Giovanni da Verona (1518).
Here too, we can find some valuable art works.


---


Look at the map