Brief Guides of:

Siena
Chianti area
Colle val d'Elsa
Larderello
Massa Marittima
Montalcino
Monte Oliveto
Montepulciano
Monteriggioni
Pienza
San Galgano
San Gimignano
Sant'Antimo
Volterra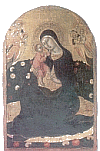 Graziella Battigalli




Montalcino is a walled hilltop town in Tuscany lying in a very good position at 564 meters above sea level. It enjoys splendid views of the surrounding valleys.

The landscape is characterized by stark rolling hills, marked by winding roads lined with dark cypresses and fortified towns, but among the most important features, are the numerous acres of vineyards from which some of Tuscany's most esteemed red wines are produced, Brunello di Montalcino and Rosso di Montalcino.

Brunello Wine DOCG

Rosso di Montalcino DOC
Brunello di Montalcino DOCG is a great red wine of Tuscany. Brunello is a local term referring to the grape variety sangiovese. These wines are of superior quality and limited production. Intense, concentrated and tannic, they tend to require long aging. They come onto the market five years after the harvest
A valid alternative to Brunello wine is represented by Rosso di Montalcino, a younger wine that combines special attributes of vivacity and freshness with a superb structure. Rosso di Montalcino is brilliant and limpid to the eye, with a composite ruby red colour. The wine should be served at a temperature of about 18-20 degrees centigrade.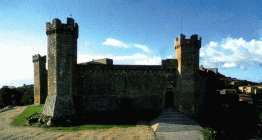 The climate and nature of the soil also favors the cultivation of olive groves, producing an excellent olive oil with a refined taste. Mushrooms, truffles, pecorino cheese, salami and honey crown the gastronomic offer of Montalcino.

Sights:


In the Rocca (fortress) by the five polygonal towers, the "Standard" painted by Sodoma for the last defenders of the Sienese Republic can still be seen. The Enoteca la Fortezza, wine-tasting shop, located below, is a great place to sample the local Brunello and Rosso wines.


The Palazzo Comunale (Town Hall) is a brick and stone building with a very fine 13th century tower.


Museo Civico and Diocesano d'Arte Sacra di Montalcino - via Ricasoli, 31 - Montalcino. This new museum is located in the convent of Sant'Agostino. Principal works include paintings by Luca di Tommè, Bartolo di Fredi, Andrea di Bartolo, Sano di Pietro, Benvenuto di Giovanni, Girolamo di Benvenuto, Segna di Bonaventura, Guidoccio Cozzarelli, Sodoma and Bartolomeo Neroni, Della Robbia terracottas (15th century), two celebrated miniated bibles, one of which is from the 12th century, as well as, an important group of polychromic statues by Sienese artists of the 14th and 15th centuries. The Museums also host several archaeological finds from the Neolithic, Bronze and Iron Ages and from Etruscan and Roman tombs.


Duomo di San Salvatore: The inside has three barrel-vaulted naves and includes the Immaculate Conception of 1588 by Francesco Vanni, John the Baptist by Ventura Salimbeni, statues of Saint John and the archangel Michael by Antonio Rossi.
Church of Sant'Agostino - Piazza Sant'Agostino
A 14th century Romanesque-Gothic church with the west front decorated with a marble rose window and elegant black and white marble doorway. It is shaped like a single nave and is frescoed by Sienese artists with scenes of the Passion of Christ and the life of St. Augustine.


Church of St. Egidio: Romanesque and Gothic church built in 1325. Inside the church a nice 16th century tabernacle and a fresco of "Madonna and Child" are preserved.


Church of Madonna del Soccorso -
Built in the 17th century, it is a church with a neoclassical travertine facade. The church features three interior naves. The exquisite Baroque altar dates from 1621. The Assumption of the Virgin Mary by Vincenzo di San Gimignano is to the right of the altar and on the left is a Calvary by Francesco Vanni. Other significant works include a Sacred Family by Rutilio Manetti and two wooden statues by Antonio Manetti.


---


Look at the map