Larderello is a geologically active area in southern Tuscany, Italy, which is renowned for its geothermal productivity and was known from ancient times for its volcanic nature and exceptionally hot springs.

The Romans used its sulphur springs for bathing. During the 18th and 19th century, they were exploited to extract boric acid. The region was the site of a pioneering experiment in geothermal energy production in 1904, when five light bulbs were lit by electricity produced through steam emerging from vents in the ground - the first ever practical demonstration of geothermal power. In 1911, the world's first geothermal power plant was built in the Valle del Diavolo ("Devil's Valley"), named for the boiling water that rises there.





It was the world's only industrial producer of geothermal electricity until 1958, when New Zealand built a plant of its own. Larderello now produces 10% of the world's entire supply of geothermal electricity, amounting to 4.8 billion kwh per year and powering about a million Italian households.

Its geology makes it uniquely conducive to geothermal power production, with hot granite rocks lying unusually close to the surface, producing steam as hot as 220C (396F). However, in recent years concerns have been expressed about the sustainability of its steam supply, as a 30% drop in steam pressure levels has been recorded from the maximum levels of the 1950's.

The region has experienced occasional phreatic volcanic eruptions, caused by explosive outbursts of steam trapped below the surface. It possesses about a dozen explosion craters 30-250 m in diameter. The largest is the Lago Vecchienna crater, now filled by a lake, which last erupted around 1282.


---
-- Larderello Geothermal Museum --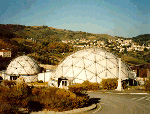 In this museum, founded by Larderello Spa in the late 1950's, you can find the history of the exploitation of geothermal energy in all its aspects, from research to drilling, to the various systems for using geothermal fluid for the generation of electricity, thermal power and mechanical power. Original models and equipment cover the history of drilling.


Piazza Leopolda This is still the factory headquarters today. Offices, homes and a church face columns with busts of Grand Duke Leopold II - who, continuing his predecessors' policy aimed at capitalizing on Tuscany's natural products, always looked kindly on the borax industry - and of the founder Francesco De Larderel and his wife Paolina..



Relief model room A series of panels uses photographs and diagrams to explain the genesis of geothermics, the research methods, drilling and the various systems for exploiting this kind of energy. Two relief models, one from 1860 and the other from the 1990's, show the transformations that took place over 150 years of the industry's development. Four scale models of plants - Larderello 3 (1950), Gabbro (1969), Radicondoli (1981) and the unified 20MW group (1990) - show how this type of plant evolved.



Covered Lagone There is also a ruin of a covered "lagone" [Tuscan borax soffione] built in 1875, which served as a separator: the water was collected from the bottom and in the upper portion a pipe collected the steam that powered the heating systems of boilers and buildings where boron salts were dried.



Valle Secolo plant Entering service in 1991, it is equipped with two units (turbine, alternator, condenser) with a rated power of 60 mw each. The two turbines may operate at pressures between 5 and 12 bar with a maximum fluid capacity of 450 tons/hour. The condenser cooling water is provided by two forced circulation cooling tower batteries, each with 8 cells.



Demonstration well Drilled in 1956, the well is 740 metres in depth and piped to a depth of 599.35 m, with a casing 9"5/8 in. diameter. Terrain crossed: allochthonous complexes in bands of Flysch (Jurassic-Cretaceous) down to a depth of 580 metres, followed by schists, quartzites, and quartz-matrix conglomerates of the Verrucano (Upper Triassic). Capacity of about 15 tons/hour.



Natural phenomena The entire borax area was affected by imposing natural phenomena: fumaroles, lagoni, geysers, etc, upon which the various boric acid extraction factories rose. As increasingly deeper wells were drilled, the phenomena diminished both in number and importance. They remain only along the strip of faults which, in the area between Sasso and Monterotondo, put the lands with allochthonous coverage in contact with those of the Tuscan series. This area still has some lagoni, hot springs, fumaroles, etc.. It is interesting to note how grasses, shrubs and such high-trunk trees as chestnut and cork flourish at the margins of these phenomena. Entrance is free of charge.
Timetable for visits:
15 September - 15 March: Monday - Friday: 8:00 - 12.00 a.m. & 1:30 - 4.30 p.m.
Sunday: 9.00-12.00 a.m. & 1.30-5.30 p.m.
Closed on Saturday and Holidays

15 March - 14 September: Monday - Friday: 9:00 - 12.00 a.m. & 1.30 - 5.30 p.m.
Saturday, Sunday and Holidays: 10:00 - 12.00 a.m. & 1.30 - 6.30 p.m.
Closed on Easter.
---

Look at the map